Testimonials
Before MSE Natural Defense Soluble (and TLC)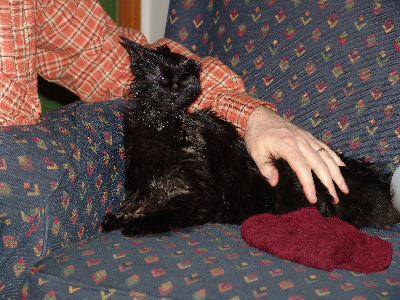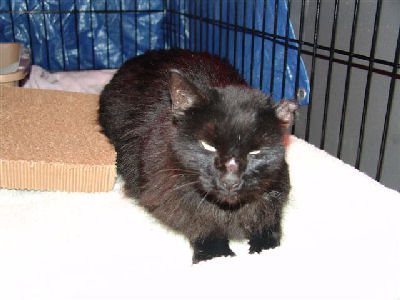 After MSE Natural Defense Soluble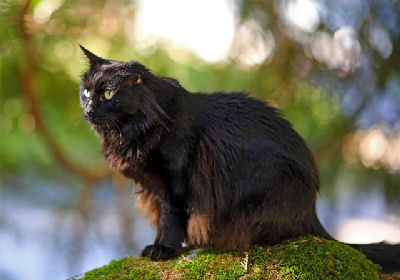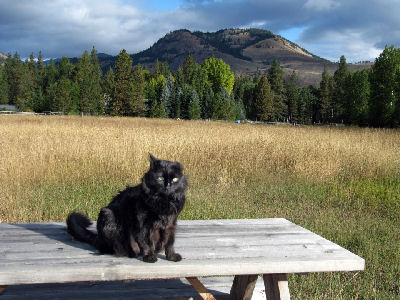 Kitty
Owned by Mark and Kim M., Sammamish, WA. The quote below comes from their webpage at flintriver.com, where you can see more pics and read the entire bio (told from the cat's POV) http://www.flintriver.com/PetGallery/default.aspx?pgid=409
"I was injured and homeless, living outside for about a year. Mark and Kim fed me, but I wouldn't let them come close to me. Finally, it got so cold that Kim set a trap for me... one cold winter night, January 5, 2005. I wouldn't risk it for tuna or chicken, but I couldn't resist the turkey. Boy, did I scare Kim good when she came to check the trap in the dark. Hissssss. I had mites, so I slept that night in my trap in the garage, but it was warmer than outside, and I had food and water. It would be too hot inside anyway.

I was a mess! I had ear mites and one ear was just about torn off. I was cut and bloody, tired, and hungry. Kim took me to the vet in my trap, and carefully took me out while the vet cowered in the corner, expecting me to misbehave. I knew I had found my family and I started purring and kneading the table.

Now I am one spoiled, happy Kitty!
It took a long time to get me fixed up. My ears will never be quite right and what was left of my left ear pinna had to be removed. I had an upper respiratory infection that wouldn't go away for months; a few days of MSE Microbial Paste completely cleared it up!

I continue to eat Natural Defense Soluble Probiotic every day - I love it! I'll eat it by itself! And it really helps me feel perky, and stay "regular" - with less odor! Other things that help my ears are Zymox, Epi-Otic, and mineral oil. I use one these every few weeks, rotating them, and it keeps my ears from itching."
Kim adds:
"Kitty does REALLY well on the NDS. It's just amazing. Sometimes we'll get lazy and stop feeding it and she'll start getting itchy and cranky - we start it up again and her coat gets so soft and all of her problems go away. She has anal gland issues - very unusual for a cat! They get seriously impacted, and we've had to have her put under to have them cleaned out. After using the NDS she got her first checkup with empty anal glands! I suspect that it may be the bentonite firming up her stools, but they didn't seem soft or anything before using NDS. I don't know, but we're VERY happy with the results!! And her ears don't bother her either - she'll scratch them bloody before NDS."
*********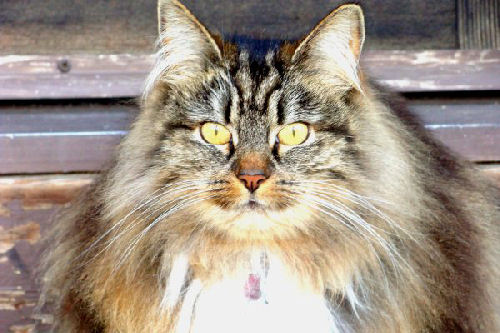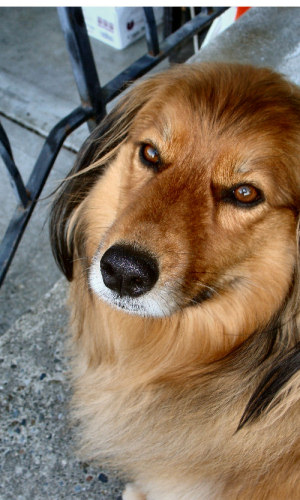 Lilly and Maggie
We have a cat and dog; both about 10 human years old. Our long hair cat loves to catch birds and mice, but theproblem was that she was constantly throwing up hairballs. Recently she started catching some type of illness from the birds as well, and would run a fever and stop eating/drinking.
When this happened, the vet had to hydrate her and prescribe antibiotics. The cat usually improved within 4-5 days, but it was getting expensive and I worried that she might die from one of these episodes.
A friend at work mentioned that she started feeding her cats MSE Daily Boost and they stopped throwing up. I checked out the link she sent me and decided to give it a try. Within a few weeks, our cat stopped throwing up, except for the occasional furball when she s shedding.
I m glad I ve made the investment of giving it daily to both of my aging pets.
Nancy Wright, Tacoma, WA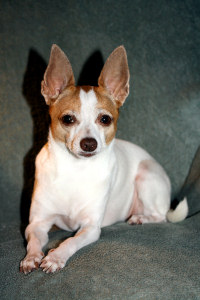 Marguerita
"First, we want to thank you (and everyone associated with the development and distribution of your MSE Liquid Rescue product) for your dedication to the well-being of our pets. Our 4-1/2 year-old chihuahua (Marguerita)was
diagnosed with IBD about 2-1/2 years ago. She also had several bouts of hemorrhagic gastroenteritis during her period of illness. In 2008, we averaged monthly visits to the emergency animal hospital for IV fluids and
meds, to control the episodes of bloody vomitting and stools. She was not in great shape, to say the least.

About the beginning of Dec. 2008, we started Marguerita on two doses of MSE Liquid Rescue a day (1cc/dose). After a couple of months of no "episodes" or emergency visits, we began decreasing the medications we were giving her (she was taking upwards of 15 doses a day, comprised of 6 to 7 different medications). In the last nine months, we have been able to decrease her to seven doses a day (four different meds) and one dose of MSE Liquid Rescue (1.5
cc). In about 15 days, we will try to eliminate another dose and continue that track until we are giving no more meds than absolutely necessary.
We are, obviously, thrilled at the progress our baby has made. While she still has some days that aren't as great as others, she is a changed dog. She is eating well, has gained weight and hasn't had a visit to the Vet. for
anything more than a routine check-up since Dec. 2008. We are grateful to God for pointing us in your direction.
She is now four years and eight months old and weighs almost 10 pounds. She has no real chronic sypmtoms - no diahrea, no vomiting, no bloody "stuff". She plays routinely and is a remarkably different dog than even nine months ago.
Again, we are very grateful."
Terri E. Robinson


direction.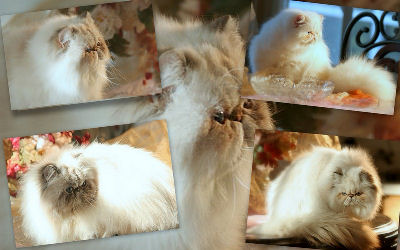 Sheila Costa, Don Scandal Himalayans, http://www.donscandalcats.com/
Don Scandal specializes in Himalayan cats. We are a small, cageless cattery situated in central Florida, USA. Our cattery is located in the beautiful countryside 40 miles from North Tampa Bay. Don Scandal has been a CFA Registry Cattery since 1996, and is a member of the Atlantic Himalayan Club. Our kittens have been adopted all over the world. We at Don Scandal aim to give the best possible care to our animals, and we are happy to provide any special diets or needs.
All our breeding animals receive MSE daily. This usually means MSE Natural Defense Soluble mixed with raw, human-grade meat. When our cats need extra support, we give them MSE Paste squirted into gel capsules. Gel caps are necessary because MSE Paste has a bitter taste. The gel caps make it much easier, and less stressful on all concerned, to dose sick cats.
We believe in a natural regimen of diet and health care. This includes a mostly-raw diet, blended with fresh fruits and vegetables, and complimented with natural vitamin and mineral supplements. A holistic dry food is also available 24 hours a day. This does not contain any wheat, corn, soy, by-products, preservatives, or artificial flavors. It is low in carbohydrates and high in protein.
MSE has reduced illness, strengthened my cats immune systems, and decreased vet bills!
It makes my cats and kittens both healthy and strong. MSE also makes healing easier when diseases do appear. I have tried several different probiotics, but MSE is the only one that ever really worked.
My cats don t live without MSE. I think it is fundamental that all breeders know about MSE, rather than waiting until their cats get ill. It is worthy to invest in a healthy life style. MSE may seem expensive at first. However, it will literally pay for itself in increased litter size, Queen milk production, and lower vet bills.
I would like to thank Lark Burnham, for her friendship, knowledge and total support, to make my Cats extraordinary healthy and happy, and for all my success with them!
Saint
Saint von Grunheide CDX
"My four-year-old male German Shepherd has had chronic diarrhea for the past
three years, despite several attempts to correct the problem.

Because I trial him in competitive obedience and use him for demonstrations in
my work as a professional dog trainer, my dog's health and energy levels are
paramount to me and the quality of life he leads. Besides being my best
friend, he is my work partner.

His digestive upsets would often turn into days of runny stool and weight
loss. It was evident that digestion was the culprit, because oftentimes his
breath smelled of rotten meat - I knew he wasn't utilizing his food properly.
Despite the numerous changes I made to his diet and to the level of stress in
his daily life, his diarrhea persisted, often coupled with weight loss and
lack of energy. At one point (summer of 2004) his health hit such a low
point that much of the hair on his stomach was scratched off by persistant
itching due to a flea infestation and coupled with a loss of ten pounds. His
general health was failing him.

In October of 2005 I was preparing for a three week trainer's course in Las
Vegas which would include my dog. It involved intensive training and a fair
amount of stress for my dog. My concern was that his health would hit another
crisis point under the pressure and changes. It was before this trip that I
started hearing about the power of probiotics and a product called Natur's
Way MSE. Because I had battled with diarrhea from him on almost a weekly
basis for the last few years, I didn't have much hope that he would be able
to get through the whole trip diarrhea-free but I decided to try the
granulated powder and the paste, before, during and after the trip. As each
day passed while in Las Vegas, I was more and more amazed by my dog's health and the fact that his digestive system suffered no upsets, no runs.
Considering the stress he was under, the results were almost unbelievable.
During the course he was even accidentally exposed to the parvo virus with
absolutely no ill-effects to his health.

Today, three weeks since the course, my dog continues to be in incredible
health. I've had to cut back on his food because he is finally gaining
weight and the incidence of runny stool have completely disappeared. I
understand that MSE will be a regular part of his diet and I am thankful for
the beautiful health it has given my boy."

Shannon Malmberg and Saint von Grunheide CDX
Vancouver, B.C. Canada
Reno
"We have had our little 9 lb. dog since we found him being chased in the streets
of Korea when we were stationed there in 1993. After a trip to the vet to make
sure he was healthy and to get all of his shots we found out he was
approximately a year old. He immediately became a part of our family, our "first"
child. Reno, which is what we named him, enjoyed a life of moving around with
us and traveling everywhere we went. He loved both of our boys when they were
born and they couldn't imagine a life without him.
The only problem we really ever had with Reno was his lack of appetite. If we
had to leave him for a few days he would eat very little. If he got off schedule just
the tiniest bit he would become severely constipated. Also, little over a year and
a half ago, Reno started limping on his left front leg. After a couple trips into the
vet she concluded that he had arthritis, which was quite common at his age. Our
vet decided to place him on a medication that he would have to take for the
remainder of his life. This was not only quite expensive, but was a hassle each
morning when we had to get the pill down. We were introduced to Natur's Way
Microbial Pet Supplements a year ago. We thought it would help with Reno's
tummy troubles so it was worth a try. We began sprinkling the Daily Boost in his
dinner every evening. At this time it just so happened that we had run out of his
supply of medications. Not only did his appetite show improvement, he
completely stopped limping! At 5:00 every night he would stand in front of us to
be fed. It was almost as if we had installed a timer in him with the Daily Boost.
His bowel movements became regular and he seemed to act like a puppy
again. For a 15 year old dog, this was amazing. But the most wonderful thing is
that he no longer has to take medication for his arthritis.
We did forget to re-order the product one time and we could see, rather smell,
the results. His little tummy missed the product and he passed very foul gas.
Reno also began to favor his left front leg again. We will make sure we don't run
out again! We really think that Natur's Way has made our dog have a healthier,
happier life. Thank you so much for the product and keep up the good work. May
God bless!"
Sincerely,
The Robles family, Tommy, Christy, Brandon, Brian, and Reno
Pensacola, FL
Colby
"I adopted Colby from a local shelter last September. She is a wonderful, sweet companion with an incredible amount of energy--she doesn t seem to know she s sick. After months of treating her for various infections, loose stool and diarrhea (sometimes severe with blood and mucous) anal sac problems and vomiting, I requested that allergy testing be done. Colby tested positive to beef, pork, kelp, white potatoes, eggs, and barley as well as to 26 environmental allergens. She was also diagnosed with IBD, based on her symptoms.
My trainer suggested probiotics, but I was initially very reluctant to try them because of my belief that less is better with Colby--I was concerned that she may be allergic to some of the ingredients in the probiotics and it would be difficult isolating the allergen. I was also very skeptical of the claims regarding the benefits of probiotics. Her doctor confirmed that many dogs respond well to probiotics, but the brand he offered me contained animal digest, which I discovered was pork. I checked a few other probiotic products and they also contained pork, whey or kelp. I was anxious to take her off of the dog food she was eating at that time because it contained one of the ingredients to which she is allergic. So, I transitioned Colby to Pinnacle, a holistic food with probiotics and digestive enzymes that was listed by the allergy lab as safe. I have read that dog foods that contain probiotics are a gimmick because probiotics do not withstand heat processing, but I am a firm believer that they do work--at least this one worked.
Prior to probiotic treatment, an episode with Colby would start with loud rumbling of the stomach that could be heard across the room, a strong urge to run outside to eat grass, followed by vomiting and bloody stool. It would take a couple of weeks of eating home-cooked chicken and rice, and sometimes antibiotic treatment, to bring her back to normal. After I discovered Pinnacle, when the rumbling started, I would give her as little as c. of the food and within 30 minutes, she was fine. I recently decided to take her off of Pinnacle because the fiber content seemed to be too high for her. Although the probiotics kept her from developing diarrhea, her stools were not firm enough to expel anal fluid, resulting in weekly trips to the Vet for anal sac expression. Giving plain canned pumpkin only made the problem worse. Additionally, she developed a rash about 6-8 weeks after starting Pinnacle. Her doctor suggested that I consider steroid treatment or allergy shots. Even though I recognize that it s traumatic to change foods, I decided that changing the food to rule it out as the source of allergy was the lesser of two evils. I would like to avoid steroids if at all possible!
My biggest concern in changing foods was in finding a probiotic that did not contain an allergen. I came across an ad for MSE on the website of a Flint River Ranch distributor. I then also read on an internet site that MSE is the number 1 probiotic in America, so I called and spoke with one of your representatives. He directed me to Hypo Defense. I can t tell you how relieved I was to find this product. This will sound melodramatic, but, from the perspective of a frustrated, exhausted Mom , who spends hours researching safe treatments that do not involve drugs and who frequently breaks down and cries because she can not figure out what to do to make her baby well, finding Hypo Defense was a true blessing. I am so impressed with probiotics that I am considering them to alleviate my digestive problems.
Colby s stools have been excellent since starting Hypo Defense and Wellness limited ingredient low fiber food, and the Hypo Defense seems even more effective than the Pinnacle in controlling the flare ups. The only problem we are dealing with now is the relentless rash which cleared and then came back this week with a vengeance as a skin infection. I still haven t figured out if the cause is food, environment or from flea treatments because of the timing of the breakouts. But, topical treatments aren t working, so we ll have to begin treatment with antibiotics. This will be the first time that she has taken antibiotics in conjunction with probiotics, so I am anxious and hopeful to see if we can maintain the firm stool."
Tina Russell
Kittanning, PA