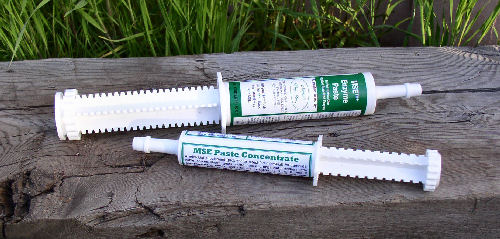 FREE SHIPPING! MSE Paste is meant to be given to sick or stressed animals, or as a preventative before, during or after stressful activities. These activities include birth, lactation, weaning, vaccination, castration, vet visits and surgery, and showing/competition. MSE Paste is available in a 30 or 80 cc syringe style tube. MSE Paste contains much higher levels of the same organisms found in other MSE products, plus the daily requirement for most vitamins, including B vitamins. Unfortunately, this vitamin content also makes both MSE paste and MSE Liquid Rescue unpalatable to cats. Most dogs will consume both these products, especially if spread on a treat. Not recommended for cats. Use MSE Liquid Rescue, either mixed in canned cat food (for cats that are eating) or orally via syringe. FREE SHIPPING!
Microbial Paste Guaranteed Analysis (per 5 cc)
Lactobacillus acidophilus 1.8 x108 CFU/5 cc (1,800,000,000 CFU)
Lactobacillus casei 1.8 x108 CFU/5 cc (1,800,000,000 CFU)
Streptococcus faecium 1.8 x108 CFU/5 cc (1,800,000,000 CFU)
Saccharomyces cereviae 6.36 x108 CFU/5 cc (6,360,000,000 CFU)
Bifidobacterium longum .9 x108 CFU/5 cc (90,000,000 CFU)
Vitamin A 15,000 IU/5 cc
Vitamin D3 3,000 IU/5 cc
Vitamin E 150 IU/5 cc
Vitamin K 7.5 mg/5 cc
Vitamin B12 26 mcg/5 cc
Biotin 250 mcg/5 cc
Niacin 6 mg/5 cc
Folic Acid 2.3 mg/5 cc
Riboflavin 17 mg /5 cc
Thiamin (B1) 16 mg/5 cc
Vitamin B6 14 mg/5 cc
Pantothenic acid 23 mg/5 cc
Ascorbic acid (Vit. C) 40 mg/5 cc
To see a comparison of MSE pet products and other popular pet probiotics, click here
Pet probiotics comparison
MSE Microbial Paste is made in Horton, Kansas, U. S. A.