Please contact Lark Burnham, Ph.D., animal nutrition for any questions or concerns.
Natur's Way, Inc.
1374 Horned Owl Road
Horton, KS 66439
800-615-0299
Fax: 785-486-3990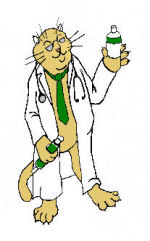 Natur's Way is a small, family-owned and -run company that has been producing MSE since 1970.

All MSE and Scour-aid products are made in Horton, Kansas, U. S. A.