GROWTH PERFORMANCE AND CARCASS CHARACTERISTICS OF GROWING-FINISHING PIGS FED DIETS CONTAINING PEANUT HULLS, WITH OR WITHOUT ADDED PROBIOTIC
L. L. Burnham1, C. R. Richardson1, A. Guye1, G. A.Nunnery1, R. A. M. Schmitt2, D. P. Duke3, D. A. Haverkamp4 and S. W. Kim1
1Texas Tech University, 2Seaboard Farms, Inc., 3Birdsong Peanuts, Inc., 4Natur s Way, Inc.
Objective - Evaluate growth performance and carcass characteristics of growing-finishing pigs fed diets supplemented with 5% (grower phase) or 10% (finisher 1 and finisher 2 phases) ground peanut hulls (PH) and with or without an added probiotic (MSE Dry Microbial Concentrate)
Procedure - 192 pigs (89 .82 d, 28 .29 kg BW). Four diets: A) Control; B) Control + MSE; C) Control + 5% (grower phase) or 10% finisher I and II phases) peanut hulls; D) Control + MSE + 5% or 10% peanut hulls. Pigs fed to 121 1.16 kg and then sent to Seaboard Farms, Guymon, OK, for slaughter and carcass data collection.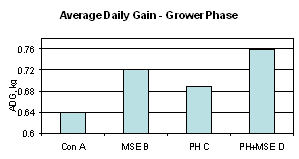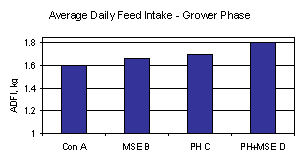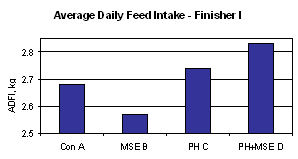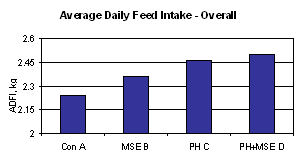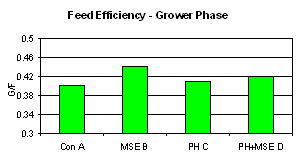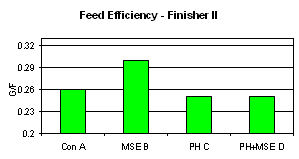 Carcass data There were no significant differences between any of the treatments for any carcass characteristics measured (trim, hot carcass weight, dressing percentage, backfat, loin muscle depth, percent lean).
Conclusions - Fibrous feed ingredients can be included at 5% or less of the total diet without depressing ADG or feed efficiency. MSE can significantly improve ADG and/or feed efficiency in growing-finishing pigs. Improvements from both low fiber inclusion and MSE were additive.