GROWTH AND CARCASS CHARACTERISTICS OF GROWING-FINISHING PIGS FED EITHER AN ANTIBIOTIC OR A PROBIOTIC
L. L. Burnham1, C. R. Richardson1, A. Guye1, G. A. Nunnery1, R. A. M. Schmitt2,
D. A. Haverkamp3, and S. W. Kim1
1Texas Tech University, 2Seaboard Farms, Inc., 3Natur's Way, Inc.
Objective - The purpose of this experiment was to demonstrate that a probiotic, Multiple Stabilized enzymes (MSE Dry Microbial Concentrate), can successfully replace a feed-additive antibiotic (Tylan®) in diets for growing-finishing pigs.
Diets - Basal diets contained 18.2 and 3.36; 15.5 and 3.37; and 14.7% CP and 3.38 Mcal/kg ME for the grower, finisher I and finisher II phases, respectively. Pigs were fed for 42 d (grower), 58 d (finisher I), and 17 d (finisher II). After the pigs reached 120 kg, they were shipped to Seaboard Farms in Guymon, OK for slaughter and collection of carcass data.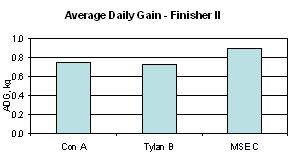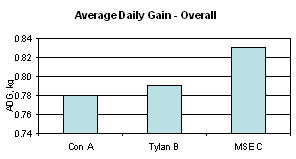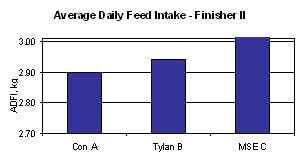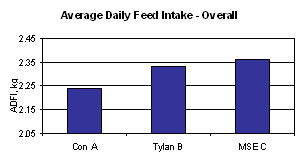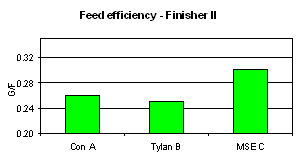 Carcass data – There were no significant differences between any the treatments for any carcass characteristics measured (trim, hot carcass weight, dressing percentage, backfat, loin muscle depth, percent lean).
Conclusions - Growing-finishing pigs fed MSE performed as well as or better than growing-finishing pigs fed Tylan®. Feed-additive antibiotics should be included as a dietary treatment when a probiotic is evaluated. Probiotics provide a viable alternative to feed-additive antibiotics.