VISIT MY GARDEN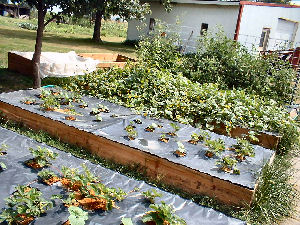 Beds in back yard (2007)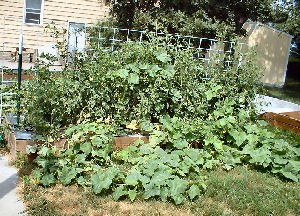 Tomato/cucumber bed (2007)
Beds by the back steps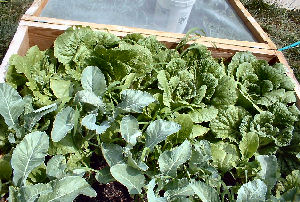 Chinese cabbage/cauliflower
The summer was very productive. Lots of melons (cantaloupe and Honeydew) which continued to produce well into October, tomatoes, and cucmbers. Got a few strawberries almost every night, although some were small. Wasted a lot of lettuce - bolted from the heat or got eaten by slugs.
Lettuce and spinach now fill all the beds with lids. The lettuce is Iceberg and Romaine that was started indoors under lights. The spinach was direct-seeded. It has been as low as single digits at night and they continue to thrive as long as they are protected from frost. They should be ready in either March or April.
Spring was plentiful here - lots of spinach and lettuce, as well as broccoli. Broccoli bed was replanted with chinese cabbage. Tomatoes have started ripening, but had a serious batch of Blossom-end rot. Still don't know why. Cucumbers are producing now, after a false start. Also started a second batch that should mature in September. Melons are creeping onto the beds next to them. I expect a bumper crop. Asparagus is up and strawberries bearing full-sized berries a handful a week.
It is very dry here. Southeastern Kansas has more rain then they wanted, and each additional rain chance seems to miss us. The lawn is dying. I am watering with the soaker hoses and a nightly round with the regular hose. So far, all the vegetables and fruits look good. Darm cabbage butterflies laid their eggs on the screens and the worms dropped onto babky chinese cabbage and cauliflower plants. I had to replant a number of times and now have them covered with cloth. I have also planted many Romine lettuce plants and am going to try head lettuces. Slugs ate a whole 14' bed of looseleaf lettuce in early summer. Using DE and cutworm collars. Very frustrating.
Hi, my name is Dr. Lark Burnham, I am an animal nutritionist at Natur s Way, a small, family-owned and operated company in northeastern Kansas. Two years ago, I bought the house that used to belong to Norbert Haverkamp, the founder of Natur s Way and developer of our microbial products. Norbert s wife, Maxine, loves flowers, and the house was originally surrounded by color. Then Norbert sold it to his son, Dan, who also currently runs the company. Some perennials have managed to survive, despite Dan s enthusiasm for riding lawn mowers.
After the first year, I set about establishing new beds. The mulched beds in the photographs were set up this spring. I am blessed with several large trees, which means a lot of shade. This also means there are only two relatively small areas that remain sunny through most of the day. One of those areas is right outside my back door, where I established several raised beds for vegetables. The other is in the front, and is reserved for flowers. I will update the photographs every month, so you can see how well (or not) the beds are doing.
Garden September 2006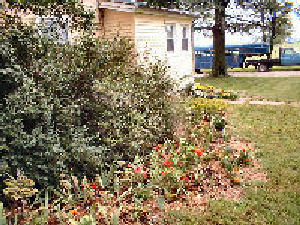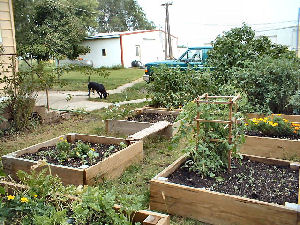 Summary of 2006 home gardens
As with the tomato experiment, 2006 was mostly about learning what worked and what didn't. The big test will come in the spring, when I see what has survived the winter.
Fall/winter crops are planted and removable lids have been ordered for the 4' x 4' beds. I have ordered solid plastic lids that are interchangable with screened lids for warmer weather. The screened lids will be kept on during the spring and summer to protect crops vulnerable to insects and/or rodents.
Broccoli and cauliflower plants are up and growing. I have had to repeatedly dust the broccoli seedlings because we have not yet had a frost. The cauliflower does not seem to be affected. Two boxes sre planted with mixed loose leaf lettuces and are doing well. I had problems with rabbits eating one bed this summer..
All of these beds will have hinged lids to protect them from frost. I plan to start many flowers and vegetables indoors this winter. A 10' x 12' shed was built next to the lettuce beds and it will soon be electrified. I have already purchased a Tek growlight and a heating pad for starting seedlings.
El Nino is supposed to be blowing this winter, so maybe it will be mild enough to keep