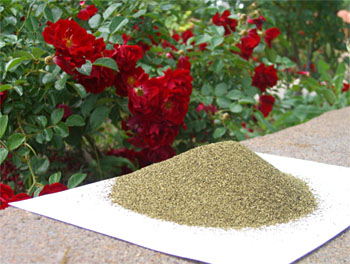 Kelp Meal from Natur s Garden is a convenient granulated organic source of minerals made from fresh oceanic seaweed. It can be incorporated into soil before planting or top-dressed after plant emergence.
Natur s Garden Kelp Meal contains:
Organic matter....66.0%
Ash (Minerals)...22.0%
Total Nitrogen (N)...0.6-2.0%
Available Phosphoric acid (P2O5)...0.3-0.9%
Soluble Potash (K2O)...2.5-3.7%
Natur s Garden Kelp Meal should be applied to the soil at the rate of 3 lb./100 square feet. Avoid direct contact of roots with the concentrated product. A spreader may be used to feed lawns.