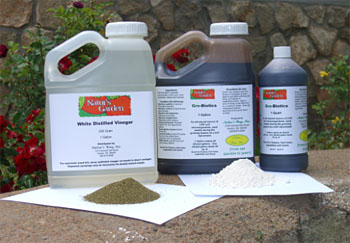 We sell only organic and natural soil amendments and rejuvenators. Our premier product, Gro-Biotics, contains several species of live soil microorganisms to replenish or fortify garden soil. Why are microorganisms important?
All plants and animals depend on beneficial microorganisms to varying degrees. Microbes process organic waste such as plant and animal matter, and in turn, excrete 'waste' products that are necessary for both plant and animal life.
Plants and animals have evolved a dependency on the microbial life that virtually covers all natural surfaces. Unfortunately, humans often take this relationship for granted, or worse, actively deny it with the routine use of antimicrobial substances. The truth is, microbial maintenance and proliferation is the key to health, whether in plants or animals.
This mutually beneficial cooperation is known as 'symbiosis', and it is most obvious in leguminous plants such as beans and peas. In these cases, the bacteria are enticed to live inside the roots in special nodules, where they fix nitrogen for the plant. The plant then uses that nitrogen to build protein. Leguminous plants and/or their seeds are known for their high protein content. Other species of microbes fix nitrogen for non-leguminous plants, but without the convenience of root nodules.
Despite their importance, microorganisms are comparatively fragile and can be easily killed by natural stresses such as heat, drought, and wind desiccation. Kill rate can be accelerated when we introduce man-made fertilizers and pesticides into the equation. Any soil that has been depleted of its natural microbial inhabitants will be necessarily less productive than undisturbed soil. Plants that grow in healthy soil are also better able to withstand these stresses, as well as assaults by all kinds of pests.
The best way to insure that the soil in your garden is healthy and productive (and by extrapolation, your plants) is to use natural and organic fertilizers, pest and weed controls available from Natur's Garden.
Natur's Way, the parent company of Natur's Garden, has been producing soil biologicals for organic and natural farmers for decades. Gro-biotics is a special formulation intended for the home garden. Gro-Biotics soil biologicals are offered in quart and gallon containers, along with Kelp Meal, Diatomaceous Earth (DE), and 200 grain vinegar.
Visit our 'Tomato Experiment' page, and follow the progress of two raised beds, one treated weekly with Gro-Biotics, and the other with plaint water. All other plant management will be identical. We will document date of first bloom, first fruit (green), first ripe fruit, and pounds of tomatoes produced by each bed. Statistical analysis will be conducted on the results and posted on this site at the close of the growing season.
On the 'Visit My Garden' page you can view monthly updated photographs of Dr. Lark Burnham's raised-bed vegetable garden and flower beds, all treated with Gro-Biotics. You can see with your own eyes what Gro-Biotics can do for you. The only fertilizers and pest/herbicides that will be used are those sold on this site.