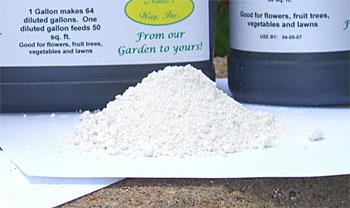 Diatomaceous earth from Natur s Garden is a fine powder that is full of microscopic sharp edges. These edges damage hard-shell insects and cause dehydration and death. Soft bodied insects may also be damaged, although earth worms do not seem to be affected.
Diatomaceous earth or DE, is dusted on plants and on the soil adjacent to the plant. Although DE is washed off when it rains or during watering, it is not destroyed. Re-dust after these events.
DE is also used for natural flea and tick prevention on dogs, and for internal parasite control in cats and dogs.